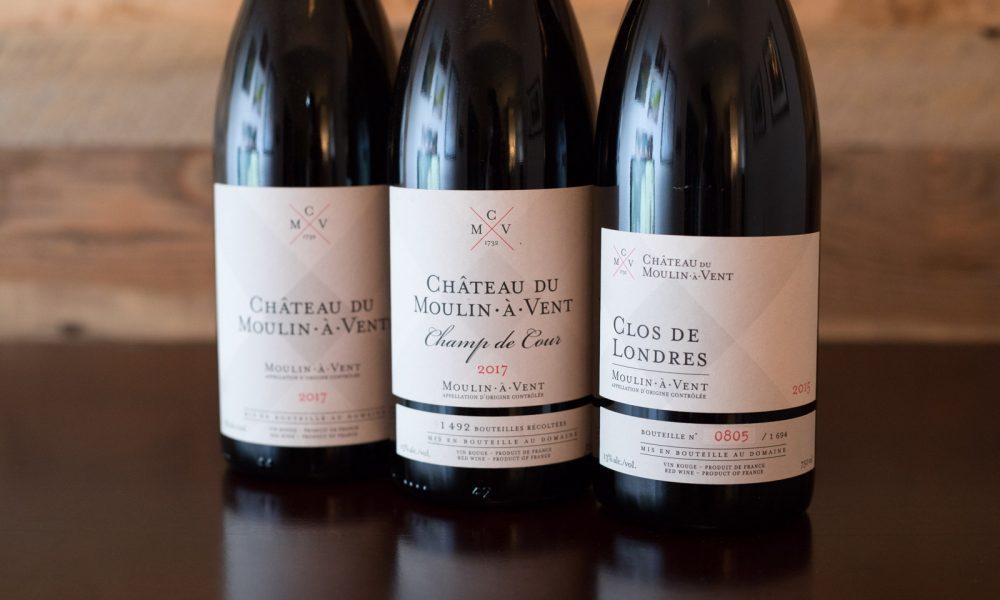 I spend an inordinate amount of time thinking about Opening a Bottle's Essential Winemakers lists. Now at 52 producers and counting (23 in France, 29 in Italy), they have become my playlists of taste. But when you are curating a list of who belongs on your readers' wine racks — or who should adorn their kitchen table, or who should initiate their best first taste of an appellation — the stakes seem high. Take for instance Beaujolais, in northeastern France, where Yann Bertrand and Château du Moulin-à-Vent have anchored opposite ends of the Gamay Noir spectrum on the Essential Winemakers of France list for some time.
Bertrand works in Fleurie, Juliénas and Morgon, using minimal intervention and semi-carbonic maceration to dazzling effect. Château du Moulin-à-Vent is also fairly traditional in its approach, but eschews semi-carbonic maceration to allow the windy perch of its vineyards to declare their depth. The producers of Beaujolais — and in particular, its Cru wines — deserve more list representation than just these two (and I'm working on it), but having just tasted a flight of Château du Moulin-à-Vent with proprietor Edouard Parinet via Zoom this morning, I can tell you their spot on my list is secure.
If there is an issue for me, it is the challenging task of accurately putting this benchmark estate's wines into proper context. For one, while the raw materials and terroir are 100% Beaujolais, the ambition goes well beyond the region. It is as though they've flipped the railroad switch to put their train on the same tracks as the wines of Burgundy or the Northern Rhône, sometimes, seemingly, in lieu of comparison to the Beaujolais cru.
And yet, Moulin-à-Vent is the richest, most brooding of the 10 Beaujolais Cru, and they embrace that fact whole-heartedly. Except for their Domaine du Roc des Boutires winery in Pouilly-Fuissé to the north (where they make exquisite Chardonnay), the Parinet family and their accomplished winemaker Brice Laffond are Moulin-à-Vent specialists. They have opted out of the other crus, in part, because it creates a conflict on the label with their estate name.
But in their singular focus, they've accomplished mastery. Old vines, prime lieu-dit vineyards across Moulin-à-Vent's wind-blasted ridge, and a commitment to traditional winemaking means their wines are singular and gorgeous.
Below are the three wines I just tasted and my impressions of them. The 2017 vintage is in short supply because of a massive hailstorm that claimed 70% of the crop. But this is the fourth vintage from the estate that I've surveyed, and these wines are now singing with, if anything, the clearest of voices.
---
2017 Château du Moulin-à-Vent, Moulin-à-Vent
Moulin-à-Vent AOC (Beaujolais)

Grapes: Gamay Noir (100%)
Alcohol: 13%
Rating: ★★★★ 1/2 (out of five)
• Food-friendliness: Versatile
• Value: As expected
Review: With its tones of wildly tart yet sweet red currants as well as tertiary notes reminding me of red flowers, rainstorm and autumn leaves, the base bottle from Château du Moulin-à-Vent sets the stage for the domaine. While maybe it has shades of Morgon, this wine, and the others from the estate, do not strike me as typical Cru Beaujolais. The depth and richness of body has a big impact on the palate, with persistent "athletic" acidity — as I put in my furious notes — that "runs and runs and runs." There is a lot to unpack for this, the estate's blend of multiple plots across the Moulin-à-Vent AOC. While 2017 offered good ripening conditions, the hailstorm in July reduced this wine from 8,000 cases to just 3,000.
---
2017 Château du Moulin-à-Vent Champ de Cour Moulin-à-Vent
Moulin-à-Vent AOC (Beaujolais)

Grapes: Gamay Noir (100%)
Alcohol: 13%
Rating: ★★★★ 3/4 (out of five)
• Food-friendliness: Versatile
• Value: Very Good
Review: Sourced from a single lieu-dit that resides between the famed windmill and the Fleurie AOC, the 2017 Champ de Cour is significantly more robust and richer than the blend of plots noted above. It's not that the wine is austere, but its arms are still crossed at this young age. It's not yet giving an inch. That's OK, because plenty of years lie ahead for this one.
If the aromas of the Moulin-à-Vent leaned toward red currants, the Champ de Cour resembles black currants, with a significant streak of rainstorm and wildflowers residing just below. This wine evokes nature on the nose, and I just wanted to keep coming back to it. The tannins are remarkably subdued, and while it feels as though it has more to say at this stage, the wine still easily glides across the palate. Supple texture, perfect amount of oak.
---
2015 Château du Moulin-à-Vent Clos de Londres Moulin-à-Vent
Moulin-à-Vent AOC (Beaujolais)

Grapes: Gamay Noir (100%)
Alcohol: 13%
Rating: ★★★★★ (out of five)
• Food-friendliness: Impeccable
• Value: Very Good
Review: Coming from the château's most cherished plot — a walled vineyard that stretches from the stately home to the foot of the windmill — the Clos de Londres may be one of Beaujolais' most impressive wines. The aromas leap from the glass and constantly change shape. I caught notes of crushed violets, black cherry, leather, smoked meat, rainstorm and most intriguingly for a red wine, curry leaf — something that's never popped into my head before. At first I dismissed it, but it came back to me several times. You might interpret it differently, but there is no mistake that this aroma and taste lend the wine a distinctive fingerprint. Slightly more tannic, and more forthcoming with its acidity and structure than the Champ de Cour, the Clos de Londres is a thing of rare beauty. And rare it is: only 120 cases were produced in 2015.